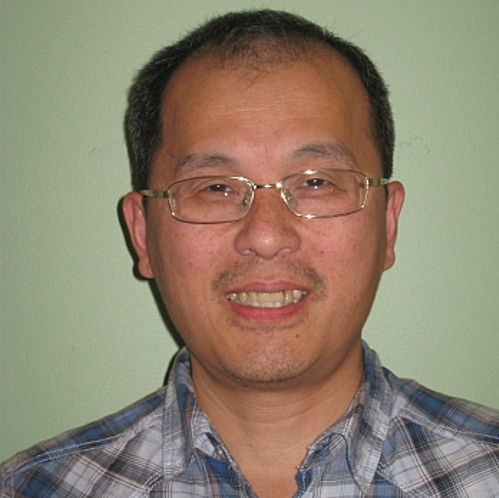 Services:
20 minute session
Acupressure
Acupuncture
Traditional Chinese Medicine Consultation

50 minute session
Acupressure
Acupuncture
Traditional Chinese Medicine Consultation with treatment

Overview:
Luis Lui, Acupuncturist and Chinese Medical Herbologist, has joined the 'Health Within' team and is available for appointments. Lui is a member of the Registered Acupuncturists of Prince Edward Island, Certified Pharmacist Taiwan, and Certified in Advanced Chinese Medical Herbology. Discover a holistic path to health and wellness that compliments and assists Western Medicine. Traditional Chinese Medicine (TCM) has existed for thousands of years and can treat sleep disorders, allergies, poor circulation, colds and flus. chronic pain, and chronic diseases and much more. Discover a more holistic approach to health & wellness.
Acupressure
Acupressure is a hands on therapy that is based in Chinese Medicine. Often the client remains fully clothed and the treatment is usually done on a massage table. Varying degrees of pressure are used on the body. Each practitioner has a pressure that they are comfortable using. Sometimes  light pressure is used and for others very deep pressure is used.  Chinese Medicine states that there are energy "chi" pathways throughout the body. The chi flowing well through out the body means good health and no symptoms. Impeded, blocked or stagnant chi will result in symptoms and a feeling of being unwell. The well trained acupressure therapist will work on increasing chi flow to the body therefore reducing or eliminating symptoms. Tension is reduced, circulation is increased and stress reduction is a result of treatments. Even without pain or discomfort having treatments can improve homeostasis. We can benefit by stress release and perhaps prevent some problems from arising.
Acupuncture
Acupuncture is an ancient therapy that originates in China. It predates western medicine and has been around for 5000 years. The body is covered in Meridians that are pathways of energy or "chi". The chi flows to each cell, organ and extremity in and around our bodies. With perfect chi flow we have health or homeostasis. With impaired chi flow we have symptoms and feeling unwell. The well trained acupuncturist treats by looking, touching, listening etc. to the body, the pulse, tongue or pallor of the client. The problems are assessed and a treatment protocol is designed based on Chinese Medicine Theory. 
Sterile single use needles are inserted at various depths into acupuncture points which are along the meridians or pathways. This encourages chi to flow more smoothly thus reducing or eliminating symptoms. Sometimes Chinese herbs are suggested to support the physiological or internal mechanisms. Usually Chinese herbs are used for a short duration as the body heals and symptoms recede. Our bodies come back into balance.
The number of treatments to have is always determined by each individual's progress. No two clients are alike and their recovery will be different also. Some people need only a few treatments while others may require more.
Many problems can be effectively treated with acupuncture. 
Traditional Chinese Medicine Consultation
Traditional Chinese Medicine Consultation (By itself as a 20 minute session or as part of a 50 minute session)
In the world of Chinese medicine, people are encouraged to consult with a TCM doctor before something goes wrong so that they may be advised how to maintain their health, optimize their wellbeing, and prevent illness.
A TCM practitioner will gather data - listen to your story, as well as gather information from "nonverbal elements," such as your demeanor, movement, voice, bodily sounds, and complexion. He will examine your tongue, take your pulse and then feel your skin, muscle tone, internal organs, etc, as appropriate.
Schedule:
Saturday 09:00 AM - 06:00 PM
Sunday 01:00 PM - 07:00 PM
Schedule an appointment
Booking Instructions: Select your Service of 20 or 50 minutes. Select your appointment block.
Please note that even though appointments are scheduled for 20 or 50 minutes they appear to be booked for 30 minutes or for 1 hour. This includes 10 minutes at the end of each session for the required sanitizing as per COVID 19 protocol.
Each appointment booked requires a separate payment. At this time we are not set up to accept payment for multiple sessions at once.
Appointment can be paid by
---
1.  Stripe (Debit / Credit / MasterCard Payment)
Payments are processed online via the safe and secure Stripe payment gateway.
Important note:
Please enter your Full Name in the "Your Name (*)" box. You are still required to add your last name in the "Last Name" box.
If you're purchasing for someone other than yourself, enter the name(s) of the person(s) in the Attendee Name box.
Please select service, date and provider then click on the Find Appointments button.
Please read the following important information regarding the COVID – 19 protocol before attending the Holistic Wellness Fair.
Masks must be worn by visitors at all times during the Holistic Wellness Fair
.
There will be the appropriate 6 feet distancing of the Holistic Wellness Fair booth spaces; however, because of the close proximity of the interaction that may be required during the different sessions, the 6 feet distance may not be practical for all sessions.
Please refrain from visiting the Holistic Wellness Fair if you have any of the following symptoms of COVID‐19:
cough (new or exacerbated chronic)
headache
fever/chills
sore throat
marked fatigue
sneezing
congestion
body aches
runny nose
Also, please don't attend the Holistic Wellness Fair if you've been outside the Atlantic bubble within the past 14 days.